With the internet, finding your new set of wheels has never been easier. Whether you're looking to purchase a well-known global brand or something more exclusive that may not even be available in your country, every car brand is at your fingertips.
So, you may be wondering – what is the most searched car brand in the world?
Thanks to Compare the Market, we have access to Google Trends data for 2022, which has revealed the most popular brands in 155 countries. So, if you're curious to know the most Googled car brands across the globe or in your own country, read on to find out.
Toyota keeps undefeated
There's no two without three: and Toyota was the most searched car brand on Google for the third year in a row. The Japanese carmaker topped the list in 69 out of 155 countries surveyed, accounting for 44.5% of total searches.
One of the reasons for Toyota's dominance could be its ranking as the most reliable car brand of 2022 by consumer non-profit organization Consumer Reports. Additionally, the company updated or released over 15 different car models in 2022, which could be a contributing factor to why interest has remained so high throughout the year.
Interestingly, the country that searched for Toyota the most was the United States, but that wasn't enough to defeat Ford as the US' favourite car brand.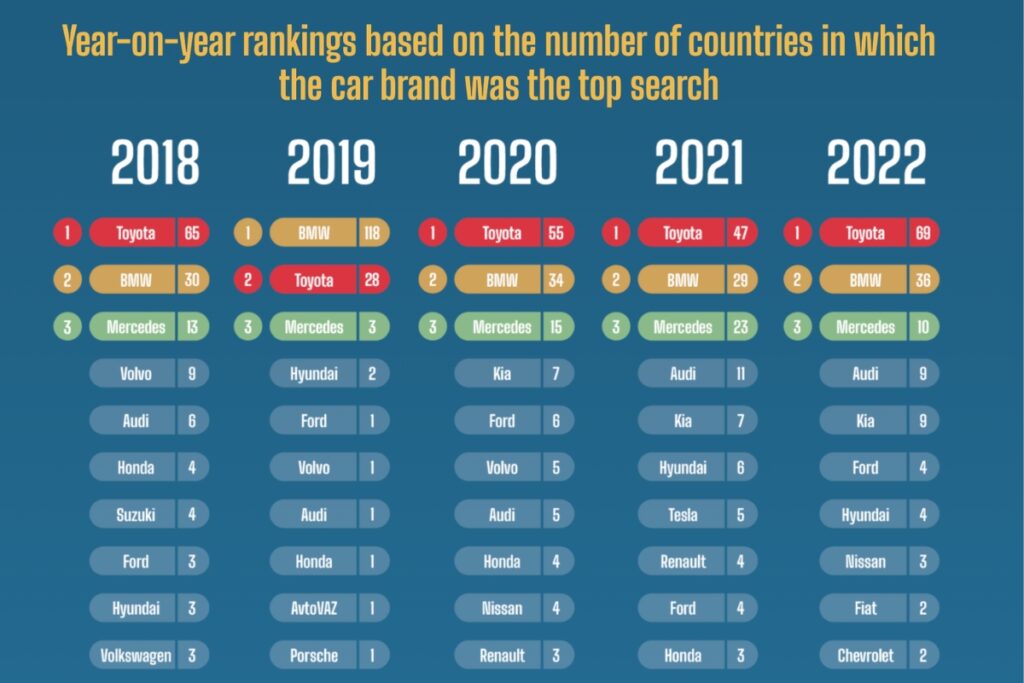 BMW advances, while Mercedes faces a setback
Despite Toyota's continued dominance in the automotive world, BMW and Mercedes-Benz have managed to secure their positions on the podium, consistent with their rankings in previous years. These two German automakers have consistently held places in the top three since 2018.
BMW was the most searched car brand in 36 countries, rising from 29 in 2022. In contrast, Mercedes-Benz experienced a setback, as its search dominance reduced from 23 countries to just 10.
Are region preferences in the search for car brands?
Despite the worldwide popularity of brands like Toyota, BMW, and Mercedes-Benz, certain brands are extremely popular in specific regions (Europe is a great example).
Kia, for instance, has become a favourite in the Middle East and North Africa, topping the list of most searched car brands in Egypt, Jordan, Libya, Palestine, Syria, and Uzbekistan. But the carmaker also shines in Ecuador, India, and Vietnam.
Meanwhile, Volvo has established a strong presence in Scandinavia and its neighbouring European regions. The brand's roots in Sweden make it a natural favourite in its home country and Finland. In Norway, it secures the second spot in the search rankings, and in Estonia, Latvia, and Lithuania, it holds the third most-searched position.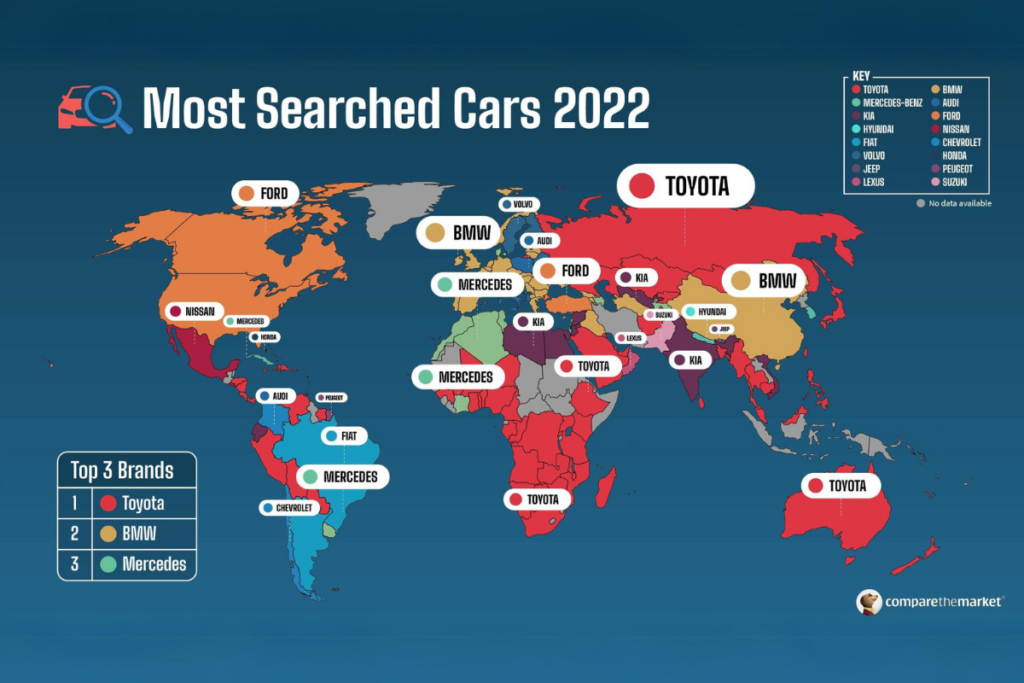 Which car brand disappeared from the map?
While some brands enjoyed a surge in popularity, others have now fallen out of favour. Renault (experienced a decline in popularity in Portugal), Rolls-Royce, and Mazda, who were once the most searched car brands in some countries, failed to secure a top spot in any nation this year. However, they still managed to rank as the second and third most popular brands in certain countries, indicating their appeal hasn't completely faded.
In 2021, Tesla was the most searched car brand in five countries. However, in 2022, there has been a significant drop in popularity, with no country listing it as their most searched car brand. This could be due to the increasing competition from emerging electric vehicle (EV) exclusive brands such as Polestar, Lucid, and Rivian and the growing number of mainstream car brands shifting towards an EV-dominated future. Volvo is a prime example of this shift, with plans to make EVs 100% of its line-up by 2030.