Today the car industry faces some obstacles, mainly due to the pandemic situation. For example, the production of new parts and vehicles slowed down because of the lack of material.
The increasing unavailability of parts has contributed to the exponential increase in OEM parts' prices (original equipment manufacturer). In the last five years alone, the average cost of the parts has increased by about 25%.
In contrast, the used OEM allows a considerable saving comparatively with new car parts. Besides, these products guarantee the same quality since they come from the manufacturer.
So, the original used auto parts are an excellent cost-quality solution. And you may find the best used OEM and seize the logistic and payment advantages on our e-commerce platform, B-Parts.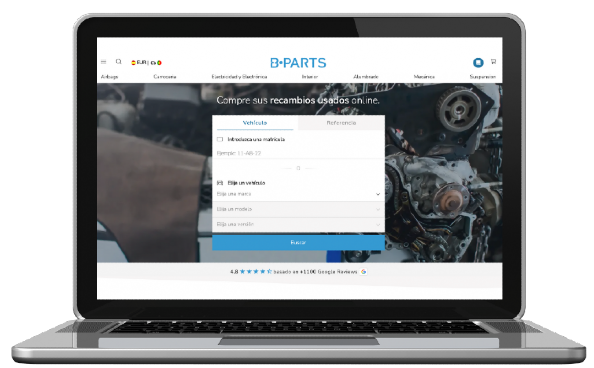 Why B-Parts?
With operations in Portugal, Spain, France, Germany, the Netherlands, and Lithuania, B-Parts is the European leader in the online distribution of original used auto parts. Currently, we have more than 4,5 million products in stock for 61 brands, from 7 European countries.
All parts sold at B-Parts are removed from crashed cars from certified dismantling centers. Next, our specialized team tests the condition of the products previously to guarantee the best quality.
Our platform, available in 8 languages, allows a quick and easy search of every used car part you need. For that, you only need to write your plate and search for the product.
Besides working daily to find the best product at the most competitive price, we strive to provide the best buying experience. For instance, the user-friendly design of our website enables a quick checkout. Our exchange and refund policy and the availability of several payment methods guarantee safety and confidence in our buying process.
Warranty and insurance
We know the importance of a warranty for our customers. So, we offer a 12-month warranty for all car parts. You can find this offer in the description of every product page on our website.
Concurrently, our customers also benefit from free insurance for 12 months and up to 150 euros for labor compensation for the assembly or disassembly of engines and gearboxes. This insurance applies in cases of defect or non-compliance of the components.
Besides, all products sold at B-Parts are original (OEM) and can be traced to the vehicle's certificate of destruction where they originated.
Efficient Worldwide Shipping
We guarantee fast shipping worldwide. We have already shipped parts to more than 140 countries, and this number continues to increase year after year. With the guarantee of fast and efficient shipping, in which the auto parts arrive in good condition to our customers. In 5 days you receive your order, in any part of the world.
In addition to safe shipping, we guarantee a refund policy if you're not happy with the package received.
Specialized B-Parts Support Team
We have assembled a team of professionals with extensive knowledge and experience in the auto parts industry. We are at your disposal to help answer your questions and ensure that you find the best option available to you.
Our support team is available to help you, in 6 different languages, by phone number, e-mail, or live chat.
Buy in the European leader platform of used auto parts. It's simple, safe, and fast.